Which one to opt for – Loan term loan or Short term loan?
5 min read
Personal loans have become readily available to potential borrowers via online and traditional mediums. Lenders are going the extra mile to lend client-friendly loans to ideal borrowers. As customers come from diverse social and economic backgrounds, banks have different interest rates and loan amount eligibility criteria for them. With quick documentation and easy to understand terms and conditions, borrowers have a plethora of options to choose from.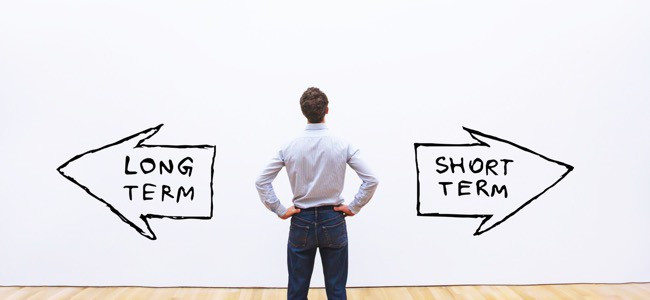 As a customer, you get to choose between a short-term loan and a long-term loan depending on its suitability for your monetary needs. Let's understand these terms and which one is best suited for your needs.
Short-Term loans
With a repayment tenure of 2 years or less, short-term loans are ideal for borrowing small amounts of money for immediate needs. These unsecured loans require the least documentation and are easy to process.  However, with usually, a slightly higher interest rate and EMIs, these loans can become a burden, especially if the loan amount is high. Being very small tenure loans, they are slightly easier to avail of as compared to a long-term loan.
Long-Term loans
Long-term loans are suited for heavy and significant financial expenses with a tenure ranging from 2 years up to 7 years. Since the tenure is slightly longer, the interest rate may be lesser than the short-term loans. While personal loans do not require any collateral, long-tenure loans may require you to present collateral or add a guarantor to prove your creditworthiness. In case of high loan amount and tenure, the lender may conduct more stringent checks which may increase the approval and disbursal time of the loan amount.
Which One Should You Choose?
You should choose the personal loan tenure after examining a few factors;
Your Debt To Income (DTI) Ratio: To manage your EMIs smoothly, it is essential to maintain a low DTI ratio. Short-term loans, although cheaper, can impact your DTI ratio severely. Moreover, defaulting on loan payments can impact your credit score negatively.
Interest Outgo: The interest outgo is an essential consideration you must make. The interest component will rise as you increase the tenure.
Future Plans:

Would you require to take another loan in the next 1-7 years?
Would You want to complete this loan before starting another loan?
Would you be able to manage the EMI along with upcoming expenses?
Personal Overdraft Facility: An Alternate
A Personal overdraft facility acts like a credit card and an alternate to a personal loan where you can withdraw money up to the current capital availability in the loan account. They usually carry a lower interest rate as compared to a credit card. Most importantly, the interest is only charged on the duration of withdrawals from the account.
Choosing the Right Tenure
Both long-term and short-term personal loans come with their own advantages and disadvantages. Choose one based on your requirements. And if you're not able to zero-in on a tenure, you can also opt for the overdraft facility that gives you complete flexibility of the tenure.
Click here to apply for a personal loan