Can you get a loan to fund extending your home?
7 min read
There might have been a period in your life when you shared a room with a friend or colleague. It could be during your college days or your early employment period when space was not much of a consideration in selecting your shelter. It was more about easy access to work and economic considerations. But as you progress through life, with every stage be it marriage, the birth of children, parents/in-laws coming to live with you, etc. you would observe that you need additional space to live in.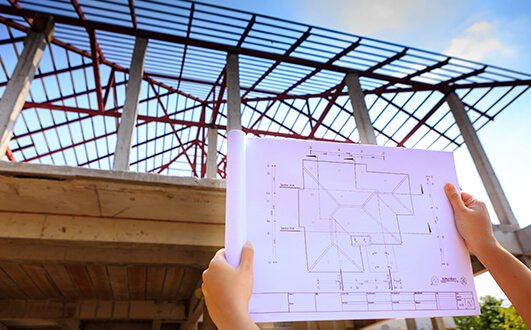 You have the option of building a large home right at the beginning so that your growing family can be accommodated easily as time goes by. This would entail a large initial investment at an early stage of your career, which might not be feasible due to financial constraints or it could even be imprudent given the opportunity loss in other investment assets. A better option would be to extend your home as and when the need arises.
But how will you extend it especially if you have got your home with the help of a home loan? Well, you need not worry because, home loans aren't meant for just the purchase or construction of a house, but also for expanding your house.
Home extension loans facilitate the expansion of your existing home to meet your increased need for space. You may use it to add a room or even a floor to your existing home. It is different from home improvement loans which are designed for renovating, repairing, or refurbishing your home to upgrade it to a contemporary design or to enhance its comfort.
Loan Features
Home extension loans are disbursed with minimum documentation against the security of your existing home. The loan can be availed from the same home loan provider from where you availed the home loan or you may choose a new lender. The loan is granted for a specified tenure, as in the case of a home loan, and you can repay it in easy monthly installments, popularly known as EMI. The maximum amount of loan that you can avail of would be between 75% and 90% of the construction estimate, depending on the approximate cost of construction.
Who can apply?
You can apply individually or jointly, with your family members as the co-applicants. If your home is jointly owned by two or more family members, all the joint owners will have to necessarily be the co-applicants of the loan. It is pertinent to note that your family members can be co-applicants even if they are not co-owners of the property.
Loan Tenure
The maximum term of the loan can be 20 years. The actual term that you would be eligible for would depend on your profile, your age at loan maturity, age of property at loan maturity, specific repayment scheme opted by you, etc.
Rate of Interest
Home extension loans are usually offered at the same interest rates as home loans, at the discretion of the lender. You may opt for the adjustable-rate loan under which the interest rates would be reset periodically depending on the prevailing interest rate scenario in the financial markets. If you want a certain level of certainty in your interest rates over the immediate future, you may opt for a fixed interest rate for specified periods like 2/3/10 years during which there will be no change in the interest rate applicable to you. After the specified period, the rate will be automatically reset in line with the adjustable rate option.
Documentation
Home extension loans involve easy and hassle-free documentation. All you need to furnish apart from the filled and duly signed application form is:
Proof of identity and residence
Proof of income
Proof of employment
Bank statement (6 months)
Photographs of the applicants
Title deed & encumbrance certificate of the property.
Copy of approved plans
Construction estimate
Tax Benefits
Tax benefits on home extension loans are similar to those available on home loans. Principal repayment on home extension loans is thus eligible for deduction up to Rs. 1.5 lakh per annum under Section 80C and interest payments are eligible for deduction up to Rs. 2 lakh per annum if the home is self-occupied and without any limit if the home is let out on rent under Section 24.
Home extension loans are an ideal option for those who want a bigger house without having to change their home. They facilitate a fine balance between affordability and convenience as you can extend your home as and when needed, rather than block your capital in a bigger home right at the beginning or compromise on your living space.